Product Catalog
Drying box
Product Categories:
Laboratory equipment / dryer

product description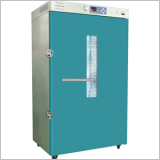 product manual:
1. Studio material: mirror stainless steel plate;
2. Screen: 3 stainless steel screen
3. Temperature range: RT + 10 ~ 250 ℃
4. Temperature fluctuation: ≤ ± 0.5 ℃;
5. Temperature uniformity: ≤ ± 2.5 ﹪;
6. Power supply: AC380V50Hz
7. Power consumption: 4000W
8. Studio size mm: 600 * 550 * 1300
Materials and characteristics:
1. Housing: electrostatic powder coating on the surface of 1.5mm cold-rolled steel plate;
2. Liner: 1.2mm mirror stainless steel plate;
3. Solid state relay: Japan Omron;
4. Insulation layer: ultra-fine temperature-resistant fiberglass wool;
5. Sensor: A grade PT100 platinum resistance;
6. Heating method: nickel-chromium alloy electric heater
7. Temperature control instrument: "AISET" intelligent digital display temperature controller, directly input, display, control temperature, over temperature alarm, protection, set temperature and current temperature window display at the same time; heating, alarm, time, fuzzy control
8. Contactor: LG in South Korea;
9. Observation window: There are glass observation windows on the door of the box, which can observe the test status in the box at any time;
10. The rear of the box is equipped with an exhaust port that can close or adjust the displacement for ventilation.
company name:

Shanghai Shenxian Constant Temperature Equipment Factory
contact number:
021-57457602-601
Contact Fax:
021-57456581
contact address:
Huqiao Industrial Zone, Zhelin Town, Fengxian District, Shanghai