Product Catalog
Paper friction coefficient meter cardboard friction coefficient meter carton friction coefficient detection definition
Product Categories:
Packaging instrumentation / friction coefficient testing

product description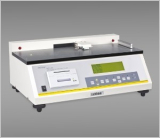 Paper friction coefficient meter cardboard friction coefficient meter carton friction coefficient detection definition
PARAM MXD-01 friction coefficient meter is
suitable for measuring plastic film and sheet, rubber, paper, cardboard, woven bag, fabric style, metal material composite belt for communication cable and optical cable, conveyor belt, wood, coating, brake pad, wiper , Shoe material, tire and other materials when sliding coefficient of static friction and dynamic friction coefficient. By measuring the slip of the material, the quality and process indicators of the material production can be controlled and adjusted to meet the requirements of the product. In addition, it can also be used for measuring the slip performance of cosmetics and eye drops.
For details, please call: Jinan Languang 0531-85068566 or log on the official website
www.labthink.cn
Microcomputer control, LCD display data, results, curves
Menu interface, PVC operation panel
Automatic timing of standing time; automatic clearing of dynamic and static friction coefficients; determination of dynamic and static friction coefficients
Quantitative dispersion analysis of test results (confidence)
Statistical analysis and processing of test results of group tests Automatically print test reports of single or group samples
Micro printer
RS232 interface
Network transmission interface supports centralized management of LAN data and Internet information transmission
Load range: 0 ~ 5N
Accuracy: Level 1 Travel: 10 mm + 60 mm
Slider mass: 200g 500g (1000g sold separately)
Test speed: 100 mm / min
Environmental requirements: Temperature: 10 ℃ ~ 40 ℃
Humidity: 20% RH ~ 70% RH
Power source: AC 220V 50Hz
Dimensions: 470mm (L) × 310mm (B) × 200mm (H)
Net weight: 31kg
GB 10006
Standard configuration: host, micro printer, 200g slider, 500g slider
Options: professional software, communication cable, 1000g slider, non-standard slider
company name:

Jinan Languang Electromechanical Technology Co., Ltd.
contact number:
0531-85068566
Contact Fax:
0531-85062108
contact address:
No.144 Wuyingshan Road, Jinan, China