Product Catalog
Paper abrasion tester, paper tape friction tester, cardboard friction tester
Product Categories:
Packaging instrumentation / friction coefficient testing

product description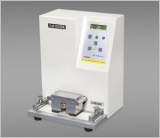 Paper abrasion tester, paper tape friction tester, cardboard friction tester

MCJ-01A friction tester is suitable for testing the abrasion resistance of printed printing ink layer, the abrasion resistance of photosensitive layer of PS plate and the abrasion resistance of surface coating of related products. Effectively analyze the problems of poor abrasion resistance of printed materials, ink layer peeling, low printing resistance of PS plates, and poor coating hardness of other products.

Features of the friction tester Microcomputer control, LCD display, membrane key switch, PVC operation panel, power-down memory, embedded standard friction table, silent operation, uniform friction
Technical index of friction tester Friction pressure: 20 ± 0.2N
Friction speed: 43cpm
Friction area: 155 mm (L) × 50 mm (B)
Friction times: 0 ~ 999
Specimen size: 230 mm (L) × 50 mm (B)
Power supply: AC 220V 50Hz
Dimensions: 260 mm (L) × 230 mm (B) × 360 mm (H)
Net weight: 22kg
Friction Tester Standard
GB 7706

The above friction testing machine information is released by Jinan Languang Electromechanical Technology Co., Ltd. For more detailed information, please call 0531-85068566 for more information!
company name:

Jinan Languang Electromechanical Technology Co., Ltd.
contact number:
0531-85068566
Contact Fax:
0531-85062108
contact address:
No.144 Wuyingshan Road, Jinan, China