Product Catalog
Kjeldahl
Product Categories:
Analytical Instrument / Solid Component Analyzer

product description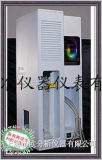 details
Detailed introduction of automatic nitrogen analyzer

SKD-800 Automatic Nitrogen Meter: Two patented nitrogen meter
SKD-800 Automatic Nitrogen Detector Design Requirement ---------- Protect the tested sample from being damaged. .Patent number: 201110008392.2
* The instrument shell is made of ABS engineering plastic to avoid being corroded by sulfuric acid and ensure the instrument's insulation.
* With automatic dilution function, automatically add diluent; alkali; boric acid. Each reagent has a liquid level detection. When the reagent is out of liquid, the instrument alarms and prompts and stops working until the reagent is replenished to ensure that the liquid is added accurately.
* Automatic detection of cooling water flow and water pressure, when the water flow is cut off, the instrument alarms, and the screen prompts, and the current distillation status is retained. When the water flow is normal, the remaining time of distillation is continued, and the pause time is intelligently increased.
With real-time detection and control of the temperature of the distillation cup; the instrument stops distillation when the temperature inside the effusion bottle is too high, and automatically continues the distillation remaining time after the temperature drops.
With real-time detection and prompt function on whether the protective door is closed;
Manual and automatic dual mode switching at will, the entire test process is tracked and displayed in real time,
Alarm and text prompts in case of operating errors;
* Corrosion-resistant water, acid, and alkali liquid level detection. The instrument alarms when the liquid level is too low, and protects the current sample status to ensure that the current sample distillation proceeds normally.
* The filling system uses a constant pressure pump to ensure the consistency of the filling.
* The distiller adopts double liquid level control (double insurance) to eliminate the danger of dry burning.
* The condenser tube adopts Peio's own patented technology, patent number: 201020689328.6.
* Gap-type addition and subtraction to ensure acid-base reaction in a controlled state.
* Distillation power is adjustable: ensure very good recovery of low concentration samples.
Parameter index:
. Measuring range: 0.08 ~ 200mgN;
Recovery rate ≥99.5%;
Repeatability: 0.5% (CV)
Measurable sample amount: solid <5g liquid <15ml;
Distillation capacity: 12-28ml / min adjustable Distillation time: 1-99 minutes;
Cooling water consumption: 1.5L / min (cooling water below 20 degrees)
Power input range: AC 220V; power: 750-1500W adjustable;
Rated voltage: 220V AC 50HZ; Rated current: 3.5-7A.
Automatically add diluent; add alkali; add boric acid.
The distillation power can be adjusted to ensure the recovery of high and low concentration sample distillation.
Addition and subtraction adopt interval type addition and subtraction to avoid intense acid-base reaction. Display mode: high-resolution 160 * 128 LCD screen, man-machine dialogue.
company name:

Shanghai Lingzhun Instrumentation Co., Ltd.
contact number:
021-54787461 54787143
Contact Fax:
021-54787461
contact address:
Room 302, No. 37, Zone 6, Lane 1467, Baobao Road, Shanghai