Product Catalog
Double glass reactor
Product Categories:
Laboratory Instruments / Glass Reactors

product description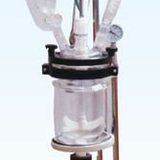 Product category: Double glass reactor
Product name: 5L double-layer glass reactor
Browsing times: 851
product manual:
Double glass reactor 冷冻液,热水或热油)做循环加热或冷却反应。 Uses: The glass reactor is a double-layer glass design. The reaction medium is placed in the inner layer to perform the stirring reaction, and the interlayer can be connected to different cold and heat sources ( refrigerant, hot water or hot oil ) for circulating heating or cooling reactions. Under the set constant temperature conditions, in a closed glass reactor, the reaction can be stirred under normal or negative pressure according to the requirements of use, and the reaction solution can be refluxed and distilled. It is a modern fine chemical, biopharmaceutical and new Ideal pilot plant and production equipment for material synthesis.
Features:
▲ Variable frequency speed regulation (10-30L), electronic speed regulation (1-5L), AC induction motor. Constant speed, no brush, no spark, safe and stable, can work continuously.
▲ A full set of glass instruments are produced using G3.3 borosilicate glass, which has good chemical and physical properties.
▲ The glass interlayer interface can be heated by passing hot oil through the circulation, and the low temperature reaction can be carried out by passing the freezing liquid.
▲ It can react at normal temperature. It can quickly remove the heat of reaction by running on tap water.
▲ The lower discharge port has a flange port and a Teflon valve. There is no dead angle in the container. It can be disassembled to facilitate the discharge of solid materials.
▲ Four-port reversing device cover, extra large-port design is easy to clean, standard-port sockets can be optionally assembled for reflux and distillation synthesis.
▲ The overall stainless steel column mobile frame structure is easy to use and stable.
Specifications
Basic parameters

model

S212- (5L)

Reaction flask (L)

5L

Bottle mouth number

5

Speed (rpm)

0—1400

Stirring shaft diameter (mm)

12

Stirring power (w)

90

Voltage frequency

220V / 50HZ

Dimensions (mm × mm × mm)

420 × 350 × 1500

Electronic stepless speed regulation

●

Vertical condenser

●

Digital display speed

●

Temperature tube

●

PTFE component seal

●

Feeding piston

●

Distillation unit

●

Backflow device

●

Low speed boost

●

Unloading
●
Vacuum gauge
●
Gimbal connection
●
High and low temperature intelligent digital display
○
Auger
○

Explosion-proof motors

Explosion-proof controller

○

Explanation: ● —standard configuration; ○ —optional
company name:

Shanghai Qiangqiang Industrial Development Co., Ltd.
contact number:
400-021-5866
Contact Fax:
021-61073223
contact address:
No. 29, Lane 1198, Jutai Road, Baoshan District, Shanghai