Product Catalog
Thermal resistance
Product Categories:
Temperature meter / thermocouple, resistance

product description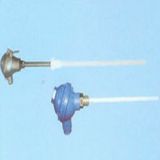 As a temperature measurement and adjustment sensor, the thermal resistance is usually used with display instruments and regulators to directly measure and adjust the liquid, steam, gaseous media and solids in the range of -200 ℃ -800 ℃ in various production processes Surface temperature.
The platinum resistance elements produced by our factory for WZPS series products adopt the production technology introduced by the American Rosemount Company, and integrate the advanced production technology, excellent testing methods of the contemporary world, and their more than 30 years of manufacturing experience.
As a whole, it has created a new generation of platinum thermal resistance products for our country, and has enabled our factory to have large-scale and stable production capabilities.
This series of products has the advantages of small structure, wide range of use, good reliability, short thermal response time, etc. It can form a variety of products with multiple specifications to meet the needs of various industries.
The series products are produced in accordance with China's new standard ZBY-85 (equivalent to the International Electrotechnical Commission IEC751-1983 standard), and are used in petroleum, chemical, power station, metallurgy, light industry, food, textile, medical and health, defense industry, scientific research, agriculture and machinery. The majority of users in other industries provide quality products.
company name:

Zhenjiang Thermal Engineering Instrument Factory
contact number:
0511-83720208 83721119
Phone:
13805285543 13338813989
Contact Fax:
0511-83724886
contact address:
Samsung Industrial Park, Dalu Town, Zhenjiang City, Jiangsu Province